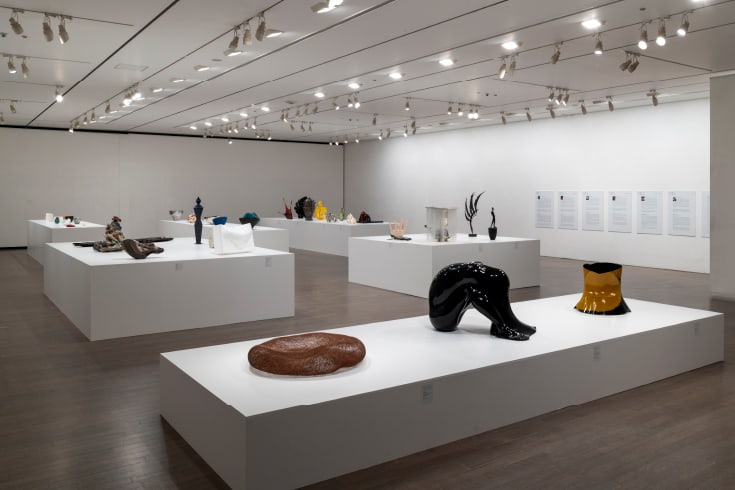 "The 4th Triennale of KOGEI in Kanazawa" consists of a competition exhibition, "2019 KOGEI World Competition in Kanazawa," and a special exhibition, "KOGEI as Contemporary Craft: Transcending Boundaries." The art of crafts has been changing and expanding with the times. Grasping this field from a global perspective, the competition exhibition introduces expressive, new crafts. Under the theme "KOGEI as Contemporary Craft: Transcending Boundaries," the special exhibition releases crafts from the conventional framework and looks at the field from a broad perspective. Above all, we focused on how the artists are observing the contemporary age and turning those observations into their artistic expressions instead of solely pursuing the technical elaborateness of crafts. The exhibition introduces a wide range of crafts created with various materials and approaches based on diverse values.
Competition Exhibition: 2019 KOGEI World Competition in Kanazawa

Grand Prize: SUGANO Yukiko

Merit Award: AOKI Chie

Encouragement Award: HATAISHI Shuji

Special Recognition Award:
FUJIKAKE Sachi, LIAO Shengwen, NAKATA Mayu,
OTSUKI Yosuke, OU Li-Ting, TEZUKA Mayumi
Selected: AOKI Takefumi, Kay APLIN, ASANO Eriko, CHEN Meina, CHENG Ya-Ping, Yongjin CHUNG, Marc FISH, Kinga FÖLDI, Marie-Noëlle FONTAN, FUJINO Seiichiro, FUKUDA Shoko, FUKUKIYO, FURUKAWA Chinatsu, HANAZUKA Ai, IMOTO Maki, KAWASE Rio, KIM Suksun, KUSAMA Tetsuo, LIANG Chih-Wei, MATSUFUJI Koichi, MATSUMOTO Chisato, MATSUTANI Fumio, Metal Research Lab, MIYAJIMA Masashi, MIZUSHIRO Satoshi, NAKAI Namika, NISHIKAWA Masanori, NISHIMURA Keikou, OGASAWARA Shin, OKAMOTO Masako, OKUMURA Shinobu, ONO Sayaka, Jennifer ROBERTSON, SAEGUSA Kazumasa, SAKAI Tomoya, SASAKI Masahiro, SATO Norikatsu, SATO Shizue, SATO Yukari・TERADA Takashi, Lotte SCHLOER, SHIBATA Ayumi, SHIKADA Yosuke, SHIMIZU Kaori, SOTOME Haruka, TAKEUCHI Kiminori, TAMBA Shigeyuki, TANAKA Kentaro, TANAKA Yu, TASHIRO Rio, TOGANOU Keisuke, TOYOUMI Kenta, TSUBOUCHI Mayumi, TSUKADA Midori, TSUMORI Hidenori, TSURUNO Toshiya, UEMAE Isao, UKAI Kohei, Youjin UM, YAMADA Takeshi, YAMAMOTO Shinro, YAMAURA Yosuke, YOSHIDA Mayu, YU Cheng-Chung, YURA Rieko, ZENG Siang-Syuan

Judges
Monika BINCSIK 
Diane and Arthur Abbey Associate Curator for Japanese Decorative Arts, The Metropolitan Museum of Art, New York
Hyeyoung CHO 
Secretary General, Korea Craft and Design Foundation; Former Art Director
TODATE Kazuko 
Craft Critic; Professor, Tama Art University
OHI Toyasai 
Ceramic artist; Recipient of the Order of Culture; Member of the Japan Art Academy
NAKAGAWA Mamoru 
Metal craft artist; Holder of important intangible cultural property
SHIMA Atsuhiko 
Director, 21st Century Museum of Contemporary Art, Kanazawa
Special Exhibition: KOGEI as Contemporary Craft: Transcending Boundaries

KOGEI as Contemporary Craft: Transcending Boundaries


SHIMA Atsuhiko
Director, 21st Century Museum of Contemporary Art, Kanazawa
A member of 4th Triennale of KOGEI in Kanazawa Planning Committee
In early March this year, I visited London and Madrid to prepare for the "Triennale of KOGEI in Kanazawa." At that time, I came across an interesting exhibition at the British Museum in London. The exhibition, held in the Mitsubishi Corporation Galleries, was titled "Japan," and packed 5,000 years of history into just three galleries, from ancient Japan to modern Japanese manga, centered on works from the British Museum's collection.
The first thing that surprised me was that Time Waterfall-panel #8 (Blue) (2017) by contemporary artist MIYAJIMA Tatsuo, who is famous for his work incorporating seven-segment displays, appeared at the beginning of the exhibition. I learned that the waterfall of gently flowing digital numbers was intended to juxtapose the image of Japanese high technology with the unending flow of time.
Although the exhibition was organized so that it roughly proceeded from ancient times to the present day, now and again, the displays were incongruent. For example, a clay figure in the shape of a warrior was contrastingly presented in the same case as recent work by ceramicist HOSONO Hitomi, while iron jizai-okimono (lifelike, articulated figures of animals such as insects and snakes), carved by the Myochin family during the Edo period (1603–1868), sat alongside recent work by metal artist MORI Junko. The unique qualities of the materials created a resonance that transcended the intentions and periods of production, and steps had been taken to allow the viewer's imagination run free while viewing the works.
While "KOGEI as Contemporary Craft: Transcending Boundaries" does not intend to present a contrast between the ancient and the present day, it was inspired in no small part by the exhibition at the British Museum. It has also provided an opportunity to reconsider the notion of "genre" more loosely. For example, we wanted to enable the viewer to rediscover works by artists who had previously been discussed in the field of contemporary art from the perspective of craft, or to reevaluate works that had been classified only as crafts, from the perspective of contemporary art. While transcending the boundaries of genre, we also focused on transcending the boundaries of thought.
The Planning Committee, in which I was joined by FUKUMITSU Matsutaro, President of the Kanazawa Craftwork Business Creation Agency, metal artist NAKAGAWA Mamoru, and ceramicist OHI Chozaemon XI, developed the plan for the exhibition through a series of unconstrained discussions. Although the criteria for selection were not necessarily strict, we chose artists and works that make full use of the unique qualities of various materials—be they clay, metal, or cloth—and embody not only artistic brilliance but also fresh ideas and unique perspectives characterized by a certain critical edge.
A number of young Japanese artists—USUI Yui, SAIJO Akane, SORAI Yukako, TAKADA Akiko & Masako, and MITSUTA Haruo—were requested to exhibit works individually as invited artists, along with Russian-born, Denmark-based artist Maria KOSHENKOVA and Taiwan's RUAN Weng-Mong. Next, from the collection of the 21st Century Museum of Contemporary Art, Kanazawa, we selected works by four artists: Anish KAPOOR, Grayson PERRY, TERUYA Yuken, and MIYANAGA Aiko. In addition, we decided to exhibit the award-winning works by the three winners of the "LOEWE Craft Prize 2019" (Winner: ISHIZUKA Genta, Special Mentions: TAKADOI Kazuhito and Harry MORGAN) held by LOEWE, a renowned global brand based in Madrid, Spain.
It is impossible to lump all of the exhibitors together in a single description. There are some who are normally rooted in the world of craft, as well as a large number of contemporary artists who had never been mentioned in the context of craft. However, to the viewers of this exhibition, above all, I recommend approaching the works with an open mind, unpreoccupied with these frameworks. I hope that you will enjoy the brilliant materials and fascinating forms on display, and that you might also come in touch with the sentiments and ideas of the artists that created them.
Artists
ISHIZUKA Genta, Anish KAPOOR, Maria KOSHENKOVA, MITSUTA Haruo, MIYANAGA Aiko, Harry MORGAN, Grayson PERRY, RUAN Weng-Mong, SAIJO Akane, SORAI Yukako, TAKADA Akiko & Masako, TAKADOI Kazuhito, TERUYA Yuken, USUI Yui